Pride season is a monumental one this year, considering that 2019 is the 50th anniversary of the Stonewall Uprising. This revolutionary uprising, led largely by queer and trans people of color (QTPOC) against oppressive police forces raiding the Stonewall Inn, ignited the modern movement for LGBTQIA+ rights.
Their uprising in New York was very much in the footsteps of the LGBTQIA+ folks who rose up against violent, transphobic police officers three years prior at the Compton Cafeteria Riots in San Francisco's Tenderloin District. Though white homonormativity soon began to dominate the general narrative around LGBTQIA+ experiences, there were militant trans women of color, like Miss Major, Marsha P Johnson, and Sylvia Rivera who rejected assimilation and instead fiercely advocated for the true liberation of the most marginalized. They consistently uplifted low-income trans women of color, houseless queer and trans youth, and sex workers in their communities until their dying days.
Five decades is not that much time in the grand scheme of things, yet mainstream pride celebrations have morphed into something unrecognizable in how heavily corporatized and policed they currently are -- Stonewall Columbus is no different.
Let's not forget what occurred prior to the Stonewall Uprising in the 1960s. The LGBTQIA+ community faced discrimination legally, socially, and medically. Harmful medical diagnoses regarding homosexuality in the 1960s led to "cures" involving conversion therapy, sterilization, shock therapy and long psychiatric hospital stays ultimately fueling the idea that we are not "normal." Legally, sodomy laws thrived in 40 plus states in the U.S., which directly enabled the criminalization of our community.
These discriminatory laws gave police around the country a "reason" to target, harass and brutalize LGBTQIA+ people, particularly QTPOC. Police began to feel a sense of a moral obligation to "protect" society from LGBTQIA+ people. Their violent enforcement practices fed the idea that LGBTQIA+ people were inherently criminal and sexually deviant predators, out to encourage disorder and threaten the sanctity of the nuclear family. LGBTQIA+ people were the target of policing, white supremacy, and transmisogynistic discrimination within the media.
LGBTQIA+ people have never been considered fully actualized people under the letter of the law, and that is magnified for LGBTQIA+ people who have other marginalized identities. The rapid unfolding of the prison industrial complex over the latter decades of the twentieth century was partially bolstered by the largely cis white gay-led movement to establish hate crime legislation-further criminalizing people of color; this put even more of our queer and trans ancestors/elders of color in harm's way.
These dynamics have only worsened over time, and many folks in Central Ohio publicly witnessed how the police state still seeks to viciously punish Black queer and trans people on the front lines.
In June 2017, queer and trans people of color peacefully interrupted the Stonewall Pride Parade to protest the acquittal of the killer cop who took Philando Castile's life. These protesters were immediately brutalized by the notoriously violent Columbus Police, and four Black queer and trans people were arrested. These folks later became known as the #BlackPride4.
During the following months, Stonewall Columbus repeatedly prioritized police and exploited our pain for their gain instead of honoring their radical namesake and standing alongside the oppressed. They refused to condemn the police violence enacted against people of color in their own community, denied providing any direct support to those who were arrested, and even went so far as to collaborate with the state and testify in court against the Black trans people who were being unjustly charged.
In solidarity with the #BlackPride4, Black Queer and Intersectional Collective (BQIC) worked alongside many other community organizers and volunteers to create Community Pride 2018: Back to our Roots. Stonewall Columbus' inaction, unchecked racism and collusion with state repression made it clear to the rest of us that we needed a celebration that is ACTUALLY safe, fun and inclusive for ALL, most importantly queer and trans people of color.
Community Pride arose from the need to move queer and trans people of color from the margins to the center; it arose from the need to reject police from our spaces, because we know all too well how the police seek to destroy and disappear people like us; it arose from the need to be treated like full, vibrant people instead of marketable demographics.
Last year, we hosted a series of fun, educational events that upheld the radical spirit of our legacy, from the Marsha P. Johnson Night to the MAJOR! Documentary Screening and Panel Discussion to the main event: the Community Pride Festival. At each event, but particularly at the festival, there was an ever-present aura of safety and belonging that permeated the environment. It became clear that once LGBTQIA+ people of color have spaces free of oppressive institutions and corporations, we are free to thrive as our full and authentic selves.
Since June 2017, there have been many community conversations that have occurred between LGBTQIA+ leaders. In these conversations, the majority of leaders expressed a need for Stonewall Columbus to publicly apologize for what happened to the #BlackPride4 in 2017, an acknowledgment that police brutality happened, and to list out next steps on how they will do better and provide safer and more inclusive spaces. Unfortunately, each conversation has ended with broken promises, continued inaction, and an ongoing refusal to apologize according to the terms that had been articulated for them numerous times.
The most recent conversation on May 18, 2019 ended with Stonewall Columbus finally admitting that they felt comfortable with all they'd done to address the harm they had caused for LGBTQIA+ people of color, and they had no plans to apologize further. It wasn't at all shocking that they felt satisfied with not having fully addressed the harm they caused, but their blatant refusal of accountability allowed us to clearly see their willful ignorance.
Now, we have the space and time to be more intentional in helping our community heal without Stonewall Columbus' involvement. Moving forward, we knew once again that Columbus Community Pride would be the LGBTQIA+ pride space to uplift QTPOC voices, experiences and identities and offer inclusion, accessibility and public education. We are excited to create Community Pride 2019: Decades of Resistance for our people!
Community Pride 2019: Decades of Resistance will be a continuation of the affirmative spaces created at the inaugural Community Pride. It will center QTPOC throughout the entire organizing process as well as within each event. There will be no sponsorships, no corporations and no cops. If you're looking for meaningless rainbow capitalism, Stonewall Columbus has plenty of that to offer. If you choose to support them this year, we simply encourage you to examine that decision and interrogate why you want to devote your time, energy or funds into an event that has proven to be dangerous for Black trans people.
If you're looking to celebrate in a way that truly pays homage to our radical legacy and that prioritizes people over profit, then come out to Community Pride 2019: Decades of Resistance! We are hosting a series of fun, free events the first two weeks of June, which will culminate in the Community Pride Festival on June 15th. Support grassroots, QTPOC-led projects and come to Community Pride!
Community Pride 2019 Events:
June 4 - Speak Up: Columbus Community Pride Spoken Word
8pm-10pm, The Vanderelli Room, 218 McDowell St, Columbus OH 43215
This event will feature local LGBTQIA+ artists of color through live art, live music, and spoken word.
June 7 - Bash Back! Queer Club Night
10pm-2am, 21+ The Olde Oak, 62 Parsons Ave, Columbus, OH 43215
This event will be a fun club night highlighting local LGBTQIA+ DJs of color.
June 11 - Free CeCe!: Screening + Discussion
6pm-9pm, CCAD, 60 Cleveland Ave, Columbus, OH 43215
We will watch Free CeCe! a documentary highlighting CeCe McDonald's experiences surviving a violent attack and being punished for defending herself. This screening will be followed by a panel with local Black trans leaders and a keynote address by CeCe McDonald herself! You don't want to miss this!
June 13 - Skate Against State Violence
9pm-12am, 18+ Skate Zone 71, 4900 Evanswood Dr, Columbus, OH 43229
Skate Against State Violence is a Pride Skate Night and a partnership between BQIC and Skate Zone 71's Pride Skate Night. It will be a fundraiser for Community Pride 2019. Entry will be $9.00 and skate rental is $4.50. Anyone needing financial assistance for entry can contact us.
June 15 - Columbus Community Pride 2019: Decades of Resistance Festival
12pm-8pm, Mayme Moore Park, 867 Mt. Vernon Ave, Columbus OH 43203
This festival is a safer, more accessible, and more inclusive Pride, uplifting and centering QTPOC and other vulnerable and marginalized communities. The festival will have workshops focusing on sexual health, exploration and freedom such as bdsm 101 and consent classes; feature QTPOC musicians, artists and vendors; and will uplift many grassroots organizations providing information and resources. The festival is child-friendly and we will have a designated play area with child care provided. We will also have STI testing, a sensory relief tent, and a mock safe needle and injection site.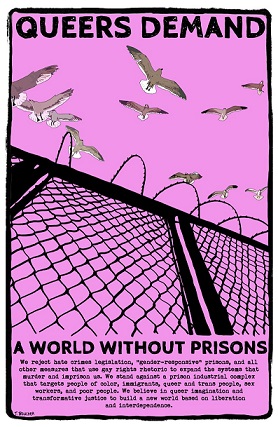 Appears in Issue: