When he was growing up in Bexley, the décor to Ross Friedman's room had a central theme. His walls and shelves were covered with Columbus Crew posters and memorabilia.
Eighteen years after he first started following the team, Friedman also wants his business attire to reflect the Columbus soccer team. The defender became the seventh "Homegrown" player on the Crew's current roster when he signed on with the team on Jan. 8, his 22nd birthday.
"It's been a lifelong goal for me to not only play professional soccer but to play for the Crew," says Friedman, who was a member of the Crew Juniors Super-20 squad that captured the 2011 national title. "I've been following this team all my life. My dad (Tod) got tickets through his work so I saw almost all of the home games. I knew every single player on the field.
"I'm so grateful they invested in me when I was in high school with the (Crew Soccer) Academy system (a youth development program sponsored by the Crew). It's great to be back playing with some of the guys I played with back in the Academy days."
Terms of the contract, per club and Major League Soccer rules, were not disclosed.
Crew Sporting Director and Head Coach Gregg Berhalter likes Friedman's adaptability. "Ross Friedman is a versatile player that can play a number of positions and has a tremendous work rate," Berhalter says.
According to MLS rules, a club may sign a player to his first professional contract without subjecting him to the league's SuperDraft if the player has trained for at least one year in the club's youth development program and has met the League's Homegrown Player criteria.
Columbus' seven Homegrown Players on its active roster ties FC Dallas for the MLS lead. Those players will be competing to become a part of the Crew's 18-player game day squad.
Berhalter says the number of Homegrown Players on the roster is "a tribute to our youth development system and the type of players this club and this region are capable of producing."
Friedman will be reunited with locals Chad Barson (Olentangy/Akron), Matt Lampson (St. Charles/Northern Illinois and Ohio State), Wil Trapp (Gahanna/Akron) and Matt Wiet (Worthington Kilbourne/Indiana and UCLA). Other Homegrown Players include Ben Speas (Cuyahoga Valley Christian Academy/Akron and University of North Carolina) and Matt Walker (Batavia/Xavier University), who played with the Academy but competed in high school soccer outside of central Ohio.
"I've played with all of the Homegrown guys on the U16, U18 or U20 teams," Friedman says. "It's great coming into training and being familiar with the guys. It makes the transition that much easier."
Friedman, who started playing soccer when he was in kindergarten, remembers idolizing members of the Bexley High School's 2003 and 2005 Division II state championship teams and relishing each chance he got to play with some of them in pickup games.
Lions coach Greg Kullman saw something special in Friedman right away.
"Ross is a kid who, if he puts his mind to something, he puts everything he has into it," Kullman says. "At some point, he decided he was going to give soccer everything he had. He has a passion for the game and put in the hard work."
After reaching the state semifinals in 2006, Bexley struggled to live up to its own set of standards during Friedman's sophomore and junior years. The Lions went 14-3-2 overall in 2007 but lost to Watterson 1-0 in overtime in a district final. The next year Bexley struggled to a 6-8-5 finish in 2008, losing to DeSales 2-1 in overtime in a district final.
Kullman remembers having a long discussion with Friedman the summer before his senior year.
"We talked about the things we could do to get the program to the next level," Kullman says. "We had good players (in 2007 and 2008) but often you don't win with just good players. His challenge was to bring our program up a level."
In 2009, Friedman's final season with the Lions, Bexley finished 17-3-2 overall after an improbable return to a state semifinal. The Lions defeated Big Walnut 2-1 (5-4 in a shootout) in a district final, Kettering Alter 1-0 in double overtime in a regional semifinal and Dayton Carroll 2-1 (4-2 in a shootout) in a regional final before losing to DeSales 1-0 (4-3 in shootout) in a state semifinal.
Prior to that season, no Division II boys team had played in four consecutive tournament games that went to double overtime or a shootout since the OHSAA added a third division in 2000.
"One of my biggest supporters and mentors has been my (high school) coach Greg Kullman," says Friedman, who had 12 goals and 10 assists and was a first team all-state selection and the Mid-State League's Player of the Year his senior season. "I learned so much from him. He was one of the first people I told when I signed."
Friedman encountered a much different game at the collegiate level when he played as a defender for Harvard University. In high school and with the Crew Academy, Friedman's coaches focused on the technical side of soccer. The college game was much more physical.
Record-wise, Friedman also had a much different experience in college. The Crimson never had a winning season while he was there. During Friedman's sophomore and junior seasons, Harvard went 0-12-2 against Ivy League competition and lost 17 games decided by one goal.
After hiring Pieter Lehrer as a coach in 2013, Harvard began to turn things around in the second half of Friedman's senior year. The Crimson won six of its last eight games to finish 7-8-2 overall and went 5-2 in the Ivy League.
The Crimson also learned how to pull out close games, compiling a 6-5 record in games decided by one goal.
Friedman played a big part in that turnaround, leading Harvard in points (12) and assists (10) during the 2013 season. His single season assist total tied for the fifth highest mark in the program's history and was the sixth most in the nation that season.
"One of the things we worked on was set pieces," says Friedman, an All-Ivy League second team selection his senior year and an honorable mention all-conference pick his sophomore year. "It was unbelievable how we started scoring goals off set pieces when we focused and put our minds into it."
Friedman hopes his background the Crew Academy, Bexley and Harvard will help him out as soccer becomes his full-time job.
"(In high school and in college) you'd go to practice and train very hard but I'd always be a little rushed because I had to go to class or take a test," Friedman says. "Now soccer's a full time thing. I have nowhere else to go. I'm looking forward to putting 100 percent into soccer for the first time."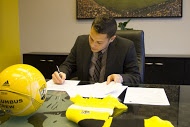 Appears in Issue: