Junior offensive guard Pat Elflein has a word of warning for the 19 freshmen out-of-staters who are experiencing an Ohio State football game for the first time. Bring your ear plugs.
  "We tell them to get ready for Saturdays in Columbus, because our fans are crazy," said Elflein, a 300 pound junior from Pickerington High School North. "It's a wild ride here on Saturdays."
  Even in a city that is home to an NHL team, a MLS team, a minor league baseball team and a handful of college teams, the Buckeyes generate a passion that is all their own. How big is Ohio State football? Consider this:
Ohio State drew a nation-leading average attendance of 106,296 fans per game during its run to the national championship last year. It's an impressive figure, considering capacity for Ohio Stadium is for only 104,944 fans.

On April 18, Ohio State set a national record for most fans attending a spring game with 99,391 packing into the Shoe for the Scarlet and Gray game. Not only is that considerably more than the Rolling Stones or One Direction drew at the stadium this summer, it's also a lot more than the Super Bowl (70,288) and the national championship game (85,689). And that was for a practice.
  Senior offensive lineman Jacoby Boren put it simply. "Ohio State football is the sports ticket in Columbus," said Boren, a 2012 Pickerington Central graduate.
  This year's team is made up of  players from 20 states and one, punter  Cameron Johnston, from Australia, but perhaps the 18 players from central Ohio understand best what the Buckeyes accomplished last season … and what doing it again would mean for the city.
  Many of the central Ohio players are expected to play key roles this season. Elflein (Pickerington North) was one of five Buckeyes on the ESPN's preseason All-American list. Linebackers Joshua Perry (Olentangy) and Darron Lee (New Albany) were listed on the 2015 Bronko Nagurski Award preseason watch list.
  Lee, who was second on the team in tackles for a loss (16.5 for -70 yards) and quarterback sacks (7.5) and returned a fumble 61 yards for a touchdown in his first start in a 34-17 win over Navy last year,  grew up in New Albany, a leafy suburb about 26 miles from Ohio Stadium.  He described being a part of the Buckeyes' eighth national championship as "surreal."
  "It was huge to bring one back to the home team," Lee said. "Even if I wasn't from Ohio, it would've been big but I've always been a fan. I know a lot of fans around here have been waiting a long time for this to happen. It was good to see it happen but we're working toward something great."
  "You grow up watching and wanting to be a Buckeye," Elflein added. "To be finally doing that is kind of crazy. It's unbelievable actually."
  Growing up in Columbus doesn't assure someone will become an Ohio State fan. In fact, Boren was the polar opposite. Both his father Mike, a linebacker who is the sixth in career tackles with 332 for University of Michigan from 1980-83, and his mother Hope, a track athlete, were standout athletes for the Wolverines, so naturally Boren grew up wearing Maize and Blue.
  Boren's oldest brother, Justin, spent two seasons with the Wolverines. After Lloyd Carr retired as coach in 2008, Justin transferred to Ohio State, becoming the third football player to play on both sides of the rivalry. His brothers Zach, who played fullback and linebacker for Ohio State (2009-2012), and Jacoby followed suit by signing with the Buckeyes.
  "(Last season) meant a lot to me growing up here with Ohio State just being up the street," Jacoby said. "I was on the other side of (the Michigan-Ohio State rivalry) but I still had a lot of respect for the Buckeyes."
  Jacoby had to push aside another rivalry last year as the team's starting center. Playing right next to him was Elflein, who repeatedly battled against Boren when the two were at rival high schools.
  "It's a pretty cool story," Elflein said with a laugh. "We were always going at it (with each other in high school). Whenever we played against each other, it was a pretty big game. Now we're teammates, playing right next to each other, and we're really good friends."
  It's not that uncommon to see former high school rivals become friends, especially among those who played in the Ohio Capital Conference, according to Perry. Of the Columbus natives on the OSU roster, four of the players (DeSales running back Warren Ball, Watterson linebacker Craig Fada and Ready tight Guy Ferrelli and lineman Brady Taylor) are from the Central Catholic League, two (Beechcroft safety Khaleed Franklin and Eastmoor defensive back Ron Tanner) played in the City League and one (Bloom-Carroll kicker Dominic Garris) is from the Mid-State League. The other 11 are from the Ohio Capital Conference.
  "The guys from central Ohio have a great bond," said Perry, who led the Buckeyes with 124 tackles last year. "We've a handful of guys who played in the OCC and everybody's always talking about playing (against each other).
  "Guys who aren't from Ohio or from central Ohio especially don't always understand how huge Buckeye football is. It's bigger than most of other things in Ohio. To be able to win a national championship was awesome but it's always a huge responsibility. There are a lot of high expectations for (this year's team). We don't necessarily take on everyone's expectations but we hold ourselves to a high standard."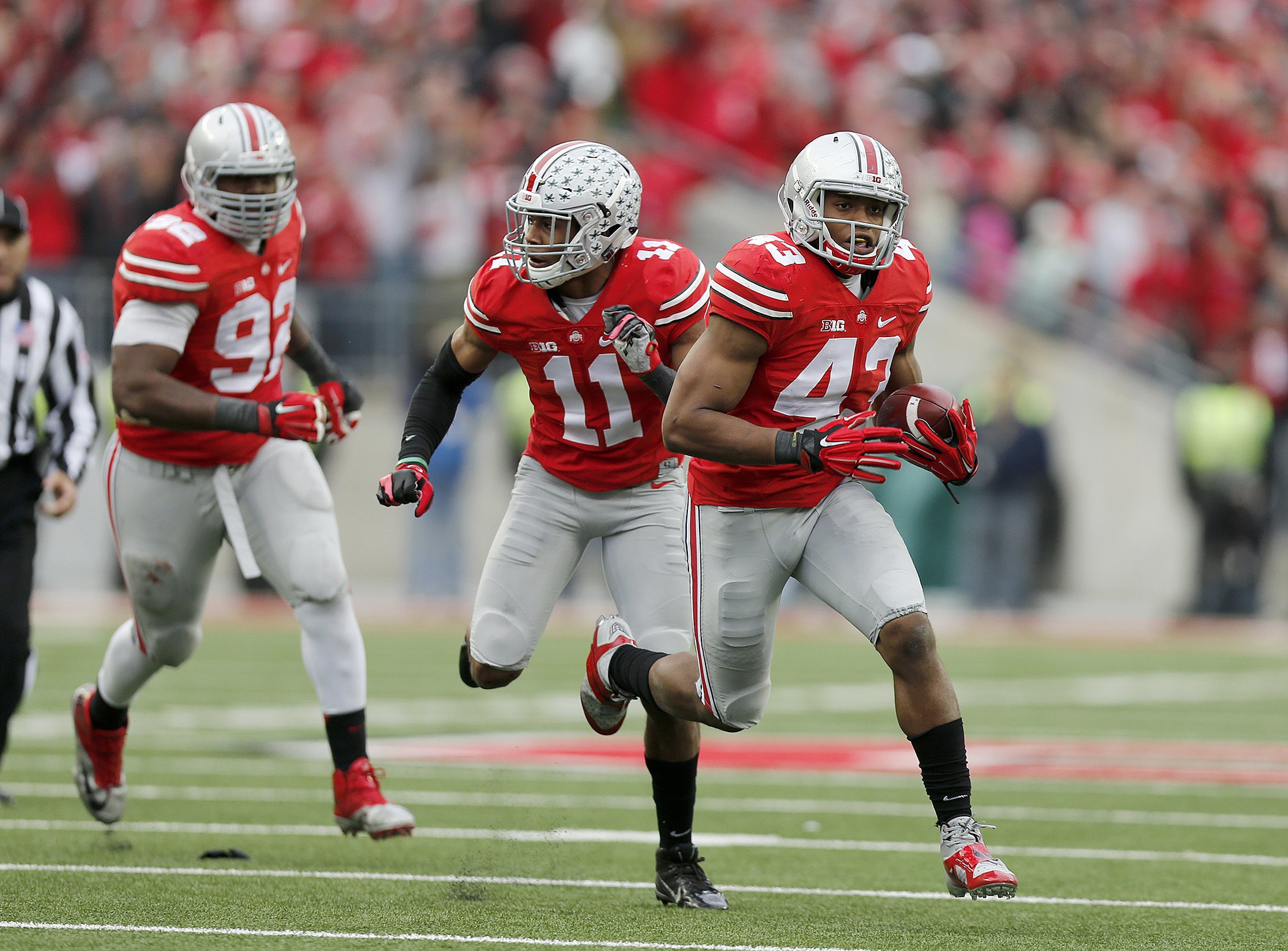 Appears in Issue: