When the mother of an Israeli soldier finds dour-faced people in uniforms at her door, she doesn't have to be told why they're there. Her grief is immediate—and immediately quashed. The visitors plunge a hypo into the woman's leg and send her into a coma-like slumber.
Thus begins Samuel Maoz's Foxtrot, a three-part tale set in a country that has spent most of its seven decades in something resembling a state of war.
The first part focuses on Michael Feldmann (Lior Ashkenazi), father of a young soldier who reportedly was killed in the line of duty. Though Michael reacts to the news with more control than wife Daphna (Sarah Adler), his outer calm only masks a growing sense of panic and outrage.  
Due to a plot twist and a shift in time, the second (and most effective) part of the film takes us to the outpost where the Feldmanns' son, Jonathan (Yonatan Shiray), guards a remote road along with three comrades. The young soldiers' days consist of long stretches of boredom relieved by tense exchanges with Palestinian motorists waiting to be approved for passage.
In the third section, we return to Michael and Daphna and learn that their relationship has been affected by a tragedy whose exact nature has yet to be fully explained.
Writer-director Maoz employs a variety of tones and styles in this cinematic tryptic.
In the first, dramatic closeups and deliberate pacing force us to experience Michael's agony from his fevered viewpoint. In the second, the depiction of humdrum military life is interrupted by flashes of comic surrealism, as when a rider-less camel plods by or a soldier suddenly breaks into a Latin dance. Finally, the third section allows the Feldmanns' marital crisis to play out without obvious directorial flourishes.
The result of the varied styles is that Maoz's film comes across as a trio of related segments rather than a unified work.
Another problem is the writer-director's frequent tendency toward heavy-handedness. An example is the revelation that the shipping container in which Jonathan and his comrades live is slowly sinking, right side first, into the desert. It doesn't take much imagination to guess what this is meant to symbolize about Israel's political reality.  
Just in time for the country's 70th anniversary, Maoz's offbeat film offers a controversial portrait of Israeli society. If you can get past its lack of cohesion and subtlety, you might find it a thought-provoking experience.   
Rating: 3 stars (out of 5)
Foxtrot (rated R) opens May 4 at the Drexel Theatre and AMC Lennox Town Center 24.
Troubled teen befriends overworked horse
Quarter horses get their name from their ability to outrun other breeds for a quarter mile. This makes them a prime choice for herding and other ranch work, as well as for races on shortened tracks.
Lean on Pete, named after a quarter horse that spends his life competing in such blink-and-you'll-miss-them races, is far from a sprint. In fact, it turns into an endurance contest for both the horse and his newfound friend, Charley (Charlie Plummer).
When we first meet the teen, he's living in Portland with a dad (Travis Fimmel) who's more interested in chasing women than he is in keeping his son fed and educated. Then Charley meets Del (Steve Buscemi), a horse trainer trying to squeeze by on what little he can earn racing his steeds at run-down tracks.
Del offers Charley a job helping to care for Lean on Pete and his other racers. Though the boy knows nothing about horses, he quickly takes a liking to the gentle Pete. So he becomes nervous when he learns Pete is being drugged and overworked and will likely be sent to the slaughterhouse if he doesn't keep winning. Despite the advice of Del's chief jockey, Bonnie (Chloe Sevigny), he can't bring himself to see horses as meal tickets rather than beloved friends.
Lean on Pete is scripted and directed by Andrew Haigh, who turned 2015's 45 Years into a slow-simmering tale of unimaginable loss. There's loss here, too—two of them, in fact, and they both arrive well before the end. After that, the film becomes a long, depressing slog marked by poor choices and increasing desperation.
Until then, a sympathetic hero, a tone-perfect supporting cast and Magnus Nordenhof Jonck's atmospheric cinematography make Lean on Pete an immersive experience.
Rating: 3 stars (out of 5)
Lean on Pete(rated R) opened April 27 at the Drexel Theatre.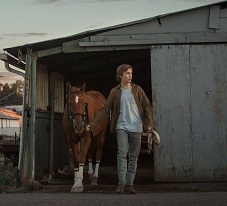 Appears in Issue: