It's been nearly nine years since Shadowbox Live time-traveled to the 1960s with Back to the Garden. The music-filled re-creation of the Woodstock Festival was such a success that the troupe has restaged it multiple times in multiple locations.
Now the troupe is returning to the rebellious decade with a new show called The Dream. Though the name comes from Martin Luther King Jr.'s 1963 "I Have a Dream" speech—excerpts from which will be heard throughout—the show itself is not based on a specific event. Instead, it will focus on 1960s efforts to advance the causes of freedom and equality for underprivileged segments of the population.
"The Dream celebrates the unsung heroes and the triumphant stories of those who stood up (for) African-Americans, women and the LGBTQ community," Shadowbox executive director Stacie Boord explained during a Jan. 24 preview event.
Speaking at the same event, WCBE radio personality Jack Marchbanks said The Dream will serve as an unofficial "kickoff" for Columbus's "I, Too, Sing America" celebration. Arts groups ranging from BalletMet to the Columbus Museum of Art will take part in the yearlong tribute to the Harlem Renaissance, an explosion of African-American culture that began roughly 100 years ago.
"We're incredibly proud to be part of this citywide celebration," Boord said.
Actually, plans for The Dream began long before the celebration was announced. Katy Psenicka, Shadowbox's choreographer and chief operations officer, said the idea was conceived in January 2017 when the troupe's "creative team" met to discuss possible shows for 2018.
"I had generated a list of historic milestones just to get the conversation started, and one of those was the 50th anniversary of the assassination of (King)," Psenicka wrote in an email. "Pretty much immediately, everyone's creative juices were flowing with ideas for a show that used 'I Have a Dream' as a cornerstone."
Typically for Shadowbox productions, music, dance and video will play major roles in the show. Three of the featured songs were performed at last week's preview: the Impressions' "People Get Ready," the Louis Armstrong hit "What a Wonderful World" and Creedence Clearwater Revival's "Fortunate Son." Symbolizing the quest for gay rights, the latter was accompanied by a gentle dance featuring two men.
The modern women's rights movement, which had its start in the late 1960s, will be represented in The Dream by tunes such as "You Don't Own Me" and "Respect," which became hits for Lesley Gore and Aretha Franklin, respectively.
Boord acknowledged that revisiting the 1960s and its bitter struggles over war, racism and sexism can bring up strong emotions. "There were a lot of things to be angry about," she said, adding that there is still much to be angry about when one realizes that the struggles in question are far from over.
"We could have brought that (anger) onstage, but that wouldn't have been compelling," Boord said. "What we need is hope and inspiration…and to just be re-inspired that the impossible is possible."
The Dream opens at 7:30 p.m. Feb. 8 at Shadowbox Live, 503 S. Front St., and continues at 2 and 7 p.m. Sundays through May 20. For more information and reservations, call 614-416-7625 or visit shadowboxlive.org.
Shadowbox co-founder and leader honored (twice) 
The giant operation that is now Shadowbox Live began 30 years ago as a troupe that presented original "rock operas" and modest-sized cabaret shows. Throughout its history, it has been led by Stev Guyer, a man whose talent and ambition were matched only by his adaptability.
It's under his guidance that Shadowbox has continually redefined itself and expanded its repertoire, so that today it offers an eclectic mixture of rock-and-comedy shows, mainstream musicals, musical tribute shows and original creations like The Dream. In the process, it has become the largest theater company in Columbus and one of the biggest and busiest troupes in the entire nation.
Due to cancer, Guyer has been forced in recent months to turn over Shadowbox's day-to-day operations to the committed team of performers and managers he has built up over the years. But his contributions to Columbus's arts scene have hardly been forgotten.
On Jan. 28, Guyer's was doubly honored at the Theatre Roundtable's annual awards night. He received a Harold Award from the Roundtable itself and a Lifetime Achievement Award from the Central Ohio Theatre Critics Circle. The critics' award read in part:
"A Roy Bowen Lifetime Achievement Award to Stev Guyer, co-founder and artistic director emeritus of Shadowbox Live, for leading and inspiring the troupe through three decades of growth, during which it evolved from the creator of original 'rock operas' to the nation's largest resident-ensemble theater company..."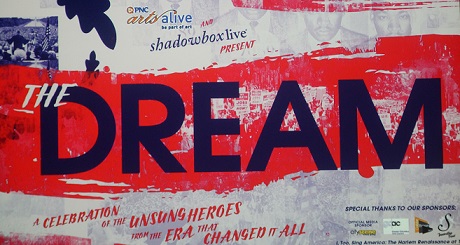 Appears in Issue: