Dear Friends and Supporters ~
HB 121 passed unanimously on the House floor - the bill now moves to the Senate for consideration!
Below is a recap of the proponent testimony provided during the 4/29 ( second) hearing on HB 121:
HB 121* AWARENESS WEEK (Stinziano, M., Ruhl, M.) To designate the last week of July as "Service Dog Awareness Week." (REPORTED; 2nd Hearing-All testimony-unanimously passed in State Government committee; moves to House floor for full vote on Wed., 5/6)
Mary O'Connor-Shaver, of Lewis Center, testified in support of the measure on behalf of seven grassroots animal welfare organizations: Animal Cruelty Task Force of Ohio, Joseph's Legacy, Justice for Herbie, Nitro Foundation/Nitro's Ohio Army, Ohio Coalition of Dog Advocates, Ohio Voters of Companion Animals, Paws and the Law and Angels for Animals.
Most people think of service dogs as seeing-eye dogs, but as sentient creatures that undergo extensive training, the incredible canines can do many amazing jobs, she said. Some can help a mobility-impaired person with balance, pick up objects or turn on lights, alert a person to an impending seizure or diabetic emergency, remind person to take medications or calm down a person with PTSD experiencing an anxiety attack, she said.
Ms. O'Connor-Shaver said the bill would help educate the public on the federal, state and local laws governing service dogs and the rights of their handlers while recognizing the invaluable contribution of the specially-trained canines who help many Ohioans with physical and emotional disabilities lead full and productive lives.
~~~
ANIMAL LEGISLATION UPDATE - OHIO - HB 121 (SERVICE DOG AWARENESS WEEK) PASSED UNANIMOUSLY ON 4/29 IN THE STATE GOVERNMENT COMMITTEE, MOVES TO HOUSE FLOOR FOR FULL VOTE ON WED., 5/6!
Sponsors: Rep. Michael Stinziano (D-18) and Rep. Margaret Ann Ruhl (R-68)
Cosponsors: Representatives Amstutz, Celebrezze, Lepore-Hagan, Phillips, Rezabek.
Summary: To enact section 5.2298 of the Revised Code to designate the last week of July as "Service Dog Awareness Week.
Status: Passed unanimously in House State Government Committee, waiting for full vote in Ohio House
OVCA's position on this bill: Support!
Click here to locate your state representative and senator asking for their YES vote on HB 121: http://www.legislature.state.oh.us/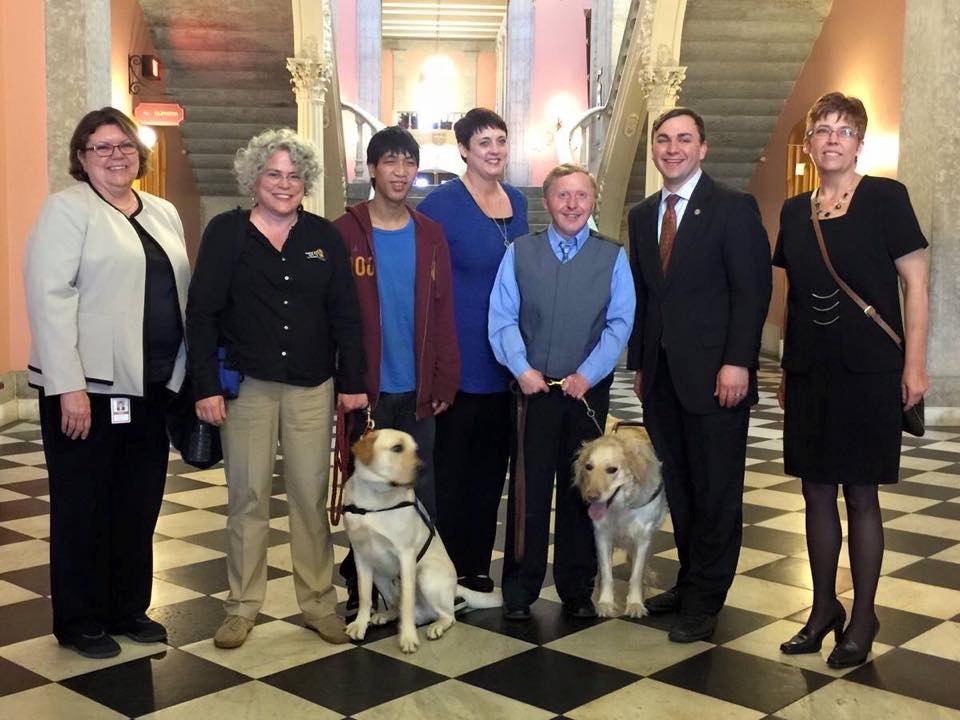 Appears in Issue: