Even though its subject matter is completely different, I can't help comparing A United Kingdom to 2016's Hidden Figures.
Both films uncover an obscure chapter in the history of racial injustice. And both films are fascinating and enlightening despite the fact that neither is quite as good as it could be.
A United Kingdom is directed by Amma Assante, who also helmed 2013's Belle, the story of a mixed-race woman who struggled to find love and gain equality after being raised among the aristocracy in 18th-century England. In Assante's new film, romance also plays a role, but it's only one part of a complex tale involving political intrigue, colonial exploitation and the early days of South African apartheid.
When young Londoner Ruth Williams (Rosamund Pike) meets an English-educated African named Seretse Khama (David Oyelowo) in 1947, it's clearly love at first sight. Ruth literally can't take her eyes off this handsome stranger, and he becomes equally entranced. The two know their respective families won't approve of an interracial romance, but they immediately make arrangements to meet again.
"He scares me a bit—the way he makes me feel," Ruth confides to her sister. If she knew what's in store for both of them, she'd be even more afraid.
It's not until Seretse and Ruth have had several chaste but passionate dates that he surprises her by revealing he's a tribal prince in Bechuanaland (now Botswana), a British protectorate on the border of South Africa. Not only that, but he's been summoned to return to his country and claim the kingship for which he's been training.
Ruth assumes their relationship is over, but Seretse surprises her again by declaring he can do nothing for his homeland if he leaves his heart behind in London. He then falls to one knee and proposes, and Ruth eagerly accepts.
But before they can get to the altar, the political complications begin in earnest. A British official named Lord Alistair Canning (Jack Davenport) tries to prevent them from marrying because it would violate the apartheid policy then being instituted in South Africa. Why do the British care about the leader of Bechuanaland violating the laws of neighboring South Africa? The answer is something Seretse discovers only after several more encounters with Canning and other meddling bureaucrats.
Meanwhile, Seretse faces more problems when he brings his bride home to Bechuanaland, a poor country whose inequalities can be seen in "whites only" signs and laws that discriminate against blacks.
Tshekedi Khama (Vusi Kunene), the uncle who raised him and who's been serving as the regent in his absence, orders Seretse to divorce Ruth on the grounds that it would be an insult to force his people to accept a white, English-born queen. When he refuses, the uncle calls a tribal gathering and attempts to have him relieved of his royal birthright. Seretse responds with a soaring speech urging his people to seek equality rather than meekly accept the kind of segregation that's being forced upon them.
This, it turns out, is only one of the many challenges the couple face. They fight back with the help of unexpected allies and the discovery of an important piece of information.
Oyelowo proved his acting chops by playing a complex Martin Luther King Jr. in Selma, but he's far more restricted as the earnest and noble character screenwriter Guy Hibbert has given him. As Ruth, Pike (Gone Girl) gets to display a little more depth, especially when the Londoner deals with being an outsider in an impoverished country whose very language is foreign to her.
For his part, Davenport portrays Canning as a smug and sneering bureaucrat, displaying about as much subtlety as Patrick Doyle's melodramatic score. Director Assante clearly wants to make sure we understand what we're supposed to be feeling and when.
Still, there are scenes in which honest emotion comes through. These, plus the lessons we learn about two real-life heroes in the fight for racial justice and national independence, make A United Kingdom well worth seeing.
Rating: 3½ stars (out of 5)
A United Kingdom (PG-13) opens Friday (March 3) at the Drexel Theatre and AMC Lennox Town Center 24.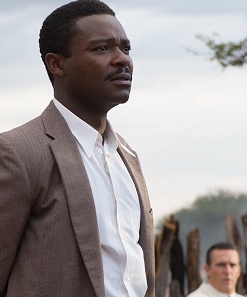 Appears in Issue: