Building on a successful strike against Verizon last year, on May 19 the Communications Workers of America hit the picket lines again to protect their livelihoods against corporate greed in the telecom industry. 21,000 AT&T Mobility workers in 36 states; 17,000 AT&T wireline employees in California, Connecticut and Nevada; and 2,000 DirectTV workers went on a three-day strike.
There was an outpouring of community support for the strikers in central Ohio. At 3 p.m. picket lines formed outside multiple AT&T stores in Columbus, Reynoldsburg, Hilliard, Upper Arlington and Westerville.
"Hey Randall, you can't hide. We can see your greedy side!" 50 protesters chanted outside the AT&T store in the OSU Gateway district. AT&T CEO Randall Stephenson took home $28.4 million in 2016. AT&T Mobility made $13 billion in profits last year.
The AT&T Mobility workers have been working without a contract since February. AT&T has not budged on its offer of a 2 percent raise, which would not be enough to cover increases in health care costs. But the strikers' main issue is not pay. They are more concerned about the company's outsourcing jobs. 
The CWA believes that AT&T plans to eventually close all of its retail stores. "We're trying to get it in the contract that these stores remain open and the whole workforce remains employed," said Todd Banks, Secretary/Treasurer of CWA Local 4320. Over the past two years AT&T has been gradually moving to selling phones through authorized retailers to avoid the cost of union wages and benefits.
"We're also asking for call center work to remain in the United States and not be sent overseas," Banks said. AT&T has been closing call centers in the U.S. and offshoring the work. The call center in Reynoldsburg closed some years ago. There is still a large call center in Youngstown.
"AT&T, you dropped the call. An injury to one is an injury to all!" was another chant from the Gateway picket line, where community supporters outnumbered the striking workers. Among them were members of the International Socialist Organization, Socialist Alternative, and Democratic Socialists of America, who see a strong labor movement as indispensable for defeating capitalism.
"When AT&T workers fight for a better contract for themselves, they're fighting for all of us," said Timothy Adams of ISO. "So it's really important for us to show up for them. When workers anywhere win better wages and better working conditions, it's inspiration for workers elsewhere to fight for the same."
An hour into the Gateway picket, the AT&T store closed its doors for the weekend. The Olentangy River Road and Grove City stores also closed up shop.
The weekend strike was a test of the CWA's power and a message to AT&T that the union will not back down. If the company continues to refuse to bargain in good faith, an open-ended strike is likely.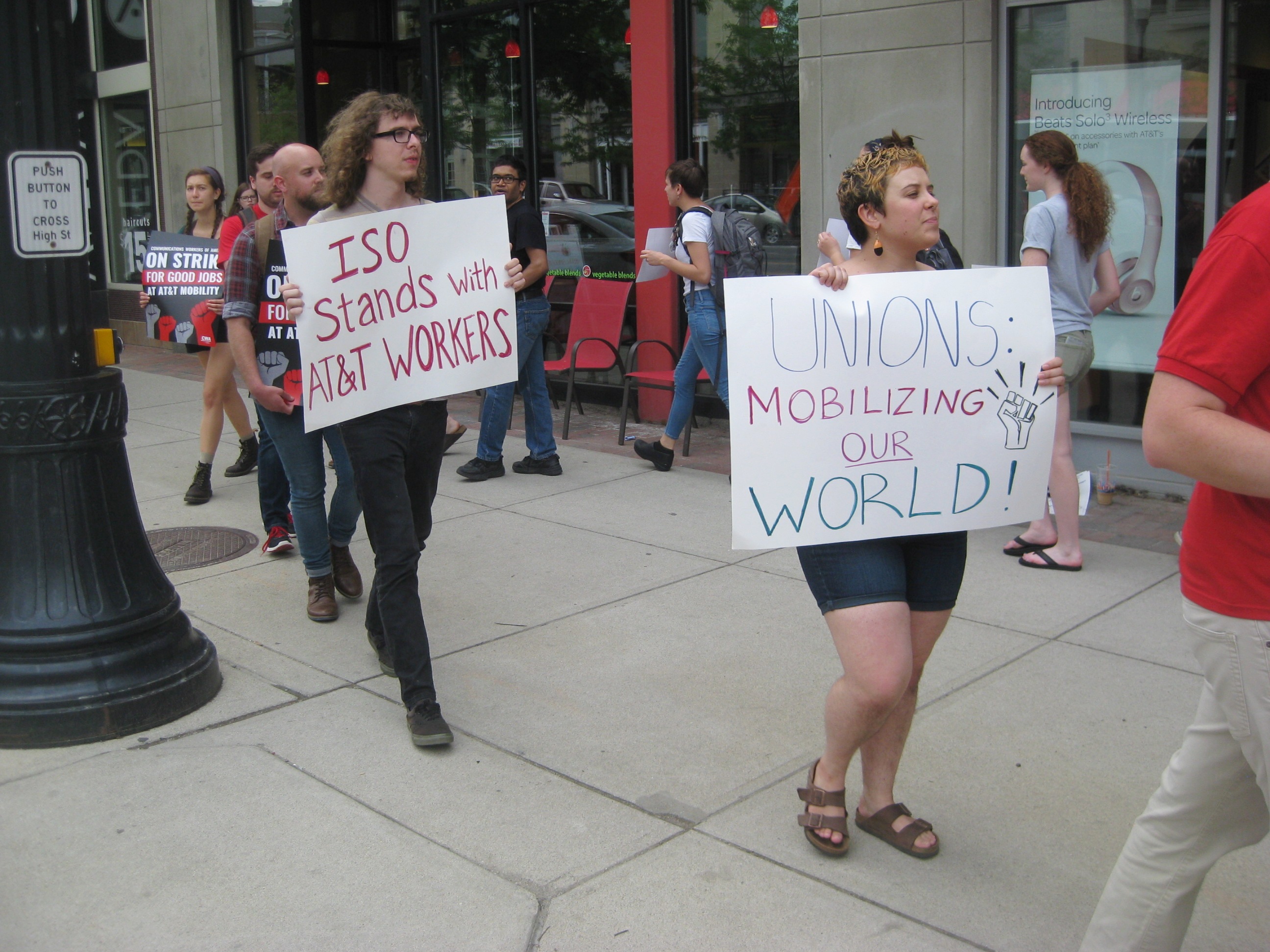 Appears in Issue: