Yes We Can is to be congratulated for taking on the Franklin County Democratic Party machine again, though the Party machine under the control of Boss Ginther and his sidekick Shannon Hardin, fight any new voices and ideas with all their might. Yes We Can exists because the Republican Party has clearly given up contesting elections in Ohio's capital city. Or maybe they determined they don't need to oppose the Franklin County Dems, whose Republican-lite policies are so pro-elite and the "unelected, but appointed" Columbus City Council members are all owned and operated by wealthy developers. Next mayoral election, Yes We Can should run a mayoral candidate to oppose the anointed one and bring out some new voters.
Plenty of new ideas are needed locally as the city has 22 percent of African American families living in poverty, Ohio is one of the top five states in human trafficking cases, and the state is ranked third in the nation for reports of hate crimes.
Some good election news in Ohio: Dr. N.J. Akbar won his race for the Akron Board of Education, becoming one of the first openly LGBTQ Muslims ever elected in the United States and the first in Ohio history. Akbar will be one of just three openly LGBTQ Black elected officials in the state. Reynoldsburg made history by electing three black women for the first time to its city council: Meredith Lawson-Rowe Ward 4, President-elect Angie Jenkins, and Shanette Strickland Ward 1. They ran on a slate of women who called themselves the #WomenofReynoldsburg and #FootballMoms. It was also great to hear that Westerville became the 27th Ohio city to pass an LGBTQ-inclusive nondiscrimination ordinance.
Pennsylvania's voting machines are misbehaving again. A Pennsylvania judicial candidate Abe Kassis, a Democrat, had 26,142 votes cast for him, but the new ExpressVoteXL manufactured by electronic voting overlord ES&S only counted 164 votes. Recall that exit polls in 2016 showed Clinton leading Trump by 1.4 percent in Pennsylvania but officially she lost to Trump by 4.4 percent on the even older and notoriously bad voting machines. Just prior to the Green Party's presidential candidate Jill Stein's recount of the state, the state voluntarily withdrew 27,000 votes from Trump as incorrect. Trump no doubt would have lost more votes, but 87 percent of the machines contained no paper trail to recount. Welcome to black box voting in the United States.
The New York Times wrote an article about presidents and impeachment but failed to mention Ohio's own Dennis Kucinich filed 35 Articles of Impeachment against George W. Bush, two specifically dealing with stolen elections in our state. Kucinich, of course, supported Yes We Can candidates.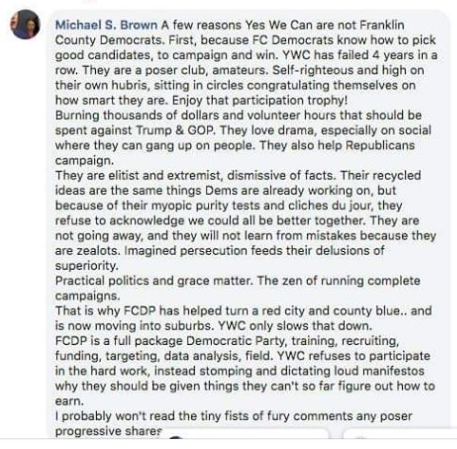 Appears in Issue: