Video footage from the police cruiser where Black Lives Matter protester Tynan Krakoff was taken into custody is raising questions about Columbus police tactics and why he was targeted for arrest. Krakoff is a lead organizer in the Columbus chapter of Showing Up for Racial Justice, a national organization of white people who fight against racial injustice.
A jury trial was scheduled to begin on October 12. Krakoff appeared with his attorneys at the Franklin County Municipal Court, but he was offered an improved plea deal and the case was rescheduled to resume on December 20. The city attorney had offered Krakoff a misdemeanor plea that allowed him to do community service.

Krakoff was arrested on July 21 near the Columbus Division of Police building in downtown Columbus after a Black Lives Matter march from the Ohio Statehouse. The demonstrators were protesting the June 6 killing of Henry Green by undercover police.

Police radio transmissions captured on the July 21 dash cam footage reveal that an undercover officer targeted Krakoff before the protest and tracked him during the march. Court documents obtained through the discovery process also revealed that detectives have been surveilling Krakoff on Twitter.

Krakoff, whose name was on the press release as the contact for the protest, was contacted by the police prior to the march. Audio on the police dash cam reveals police describing his appearance, mentioning him by name and calling him an "agitator."

Krakoff's attorneys Bob Fitrakis [Free Press editor] and Connie Gadell-Newton issued a statement saying: "We believe Mr. Krakoff was targeted by police for arrest as a leader of the Black Lives Matter movement."

Police cruisers surrounded the marchers as they proceeded north on High Street. When police ordered them out of the street, some protesters complied and others didn't.

The dash cam footage makes it clear that Krakoff was specifically targeted for arrest. So why was he charged with failure to obey a police officer and pedestrian in the roadway, when dozens of other protesters were doing the same things? The police may have arrested Krakoff in order to discourage white solidarity support of the Black Lives Matter movement.

When discussing Krakoff's charges in the dash cam recording, one officer said "I don't care. What to you guys want to do?"

"We want to do what pleases the ranks," another officer said.
As two officers in the cruiser were speaking with Krakoff, a police sergeant opened the car door and attempted to intimidate him. "When we tell you not to go in the street, and you go in the street, guess what happens?" he said. "You get citations. Remember this face, 'cause you're going to see a lot of it when you go to jail," he said, and slammed the cruiser door closed.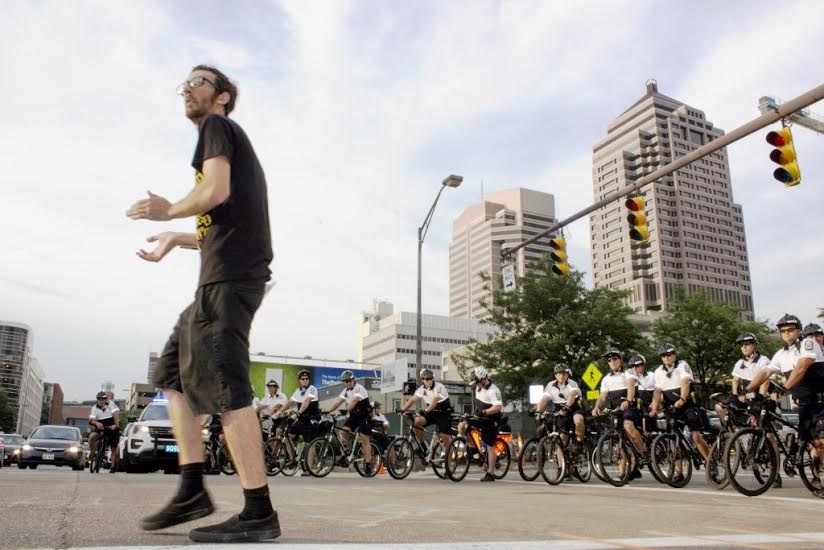 Appears in Issue: