Who is Zach Klein and where did he come from?
On the heels of Represent Columbus' Issue One, which was perhaps the most partisan political event in memory, the all-Democratic City Council launched a divisive propaganda campaign falsely claiming the issue was a Republican plan. City Council member Mike Stinziano initiated an attack against Represent Columbus co-chair Whitney Smith at a council meeting, pointing out that she is a Republican.
Issue One, the initiative attempting to expand and reform Columbus City Council that was defeated at the August 2ndspecial election, actually had support from the Green, Libertarian, Socialist parties as well as many disgruntled Democrats
The one-party Columbus City Council and its One Columbus PAC, led by Mayor Andrew Ginther's aide Bryan Clarke, attacked Issue One as being a "Republican power grab" led by "the Party of Trump" associated with the "Koch brothers."
The Columbus Free Press took some time to investigate these allegations and any close ties between Democrats and Republicans in town, and uncovered startling evidence that Zach Klein, the Democratic City Council President and Democratic candidate for Franklin County Prosecutor, has deep Republican loyalist roots.
Klein Supported Republican Tiberi
The Free Press has discovered that in the year 2000, Zach Klein was a volunteer for Republican Congressional candidate Pat Tiberi (OH-12th). While Franklin County Democrats were working to elect Mary Ellen O'Shaughnessey to US Congress, Klein was volunteering for Tiberi. Klein even appears flaunting an "All Aboard the Person-to-Person Express" Tiberi for Congress T-shirt along with other Republican volunteers. His Republican campaign experience is highlighted on his resume.
Of course, Tiberi won that election and aligned with Republican House Speaker John Boehner, promoting an anti-womens' and anti-civil rights agenda. Tiberi, the candidate Klein supported for at least three years (through sometime after August 2003), is rated 0 percent by the Human Rights Commission, indicating strong opposition to Gay Rights, and 13 percent by the ACLU, indicating a dismal civil rights voting record. The NAACP ranks him at just 36 percent, indicating a mixed record on affirmative action.
Klein Celebrated Bush-Cheney Victory
That same year, while many Democrats were busy in Florida trying to save the presidential election for Democrat Al Gore by reviewing the hanging chads in Miami-Dade County, Zach Klein was apparently busy making travel plans to Washington DC for the Bush-Cheney inauguration. He proudly posed, looking like a rising Republican star, in his tuxedo under the Bush-Cheney presidential seal at an inauguration ball while celebrating the victory of George W. Bush. Their election had been sealed by the conservative Supreme Court decision ending theFlorida recount effort in an opinion written by the late Supreme Court Associate Justice Antonin Scalia.
Klein Touted Membership in Koch Brothers-Supported Federalist Society
Four years later, Klein's resume touted his membership in the Federalist Society, which describes itself as "a group of conservatives and libertarians interested in the current state of the legal order." The late Judge Scalia was a faculty advisor of the Federalist Society. Wikipedia says The Federalist Society, of which Klein was a dues-paying member, "has played a significant role in moving the national debate to the right on theSecond Amendment,campaign finance regulation,state sovereignty, and theCommerce Clause. It plays a central role in networking and mentoring young conservative lawyers."
Notable members include the late Supreme Court Justice Scalia; Republican Senator Orrin Hatch from Utah, known for blocking President Obama's judicial nominees, fighting against marriage equality and opposing Obamacare; Supreme Court Justice Clarence Thomas; John Ashcroft, the former U.S. Attorney under George W. Bush; and Kenneth Starr, the Independent Counsel whose investigation of the Monica Lewinsky affair led to the impeachment of President Clinton.
Former Reagan administration Attorney General Ed Meese is on the Board of Directors of the Federalist Society. According to Wikipedia,
"…as Reagan's chief of staff (in California when Reagan was Governor), Meese was instrumental in the decision to crack down on student protesters at People's Park in Berkeley, California, on May 15, 1969. Meese was widely criticized for escalating the official response to the People's Park protest, during which law enforcement officers killed one student protestor and injured hundreds of others, including bystanders. Meese advised Reagan to declare a state of emergency in Berkeley, contrary to the recommendation of the Berkeley City Council. This resulted in a two-week occupation of People's Park byNational Guardtroops."
Perhaps this tough-on-protest philosophy of fellow Federalist Society members is what prompted council president Klein to threaten to have the council's police officer deal with Columbus citizens who applauded public comment by Clintonville resident Joe Motil. Motil had questioned Columbus' tax abatements given to millionaires at a City Council meeting on May 23, 2016. Klein responded to a smattering of applause, saying "please refrain from clapping, otherwise I'll have no choice but to have the officer step in." Such a "tough on public disorder" approach is certainly in line with the thinking of the Republican hard right.
And while the One Columbus campaign against Issue One repeatedly made the claim of Koch Brothers ties to the Issue One supporters, in fact the Koch Industries foundations have been major donors to right wing Federalist Society in which Klein was a dues-paying member. Koch Industries contributed over $2.4 million between 1997 and 2011 to support the mentoring of "young conservative lawyers" like Klein.
In 2004, when applying for a job with a Republican Court of Appeals judge in Lima, Klein's resume said that he drafted opinions, performed legal research and prepared bench memoranda for Judge George C. Smith. Judge Smith had been nominated by President Reagan to the federal court, and the late Chief Justice Thomas Moyer, a Republican, in the Ohio Supreme Court. That same resume also lists Klein as a campaign volunteer for the Franklin County Republican Party,where Klein had interned for Franklin County Republican Party Chairman Doug Preisse, a close advisor to Governor John Kasich.
Klein–a-chameleon: He comes and goes
By the time Klein applied to be appointed to the all-Democratic Columbus City Council, his resume had changed. The resume received by the City Clerk on December 16, 2010 does not mention any of his prior Republican activities – no Federalist Society, no mention of Republican Judges Moyer or Smith. Klein had become a chameleon – changing his appearance for his new political ambition.
But perhaps his background, steeped in the ideology of the right-wing, is the reason Klein has not embraced progressive causes. He is on record fighting against campaign finance reform, supporting the rejection of citizen petitions seeking caps on campaign contributions to council members' campaigns. He does not support Black Lives Matters issues, such as civilian review of police activities, independent prosecutors for police shootings and policing reforms beyond the mayor's call for police body cameras.
Columbus progressives who are puzzled by Columbus City Council's stance on many issues should consider the background of its leadership. As Columbus City Council opposed the Issue One council district effort in part because the Republican Party had endorsed the issue and Zach Klein continues in his current run for Franklin County Prosecutor – Columbus citizens should consider whether they know who Zach Klein really is, and what he really stands for. He was clearly a conservative Republican first, a member of The Federalist Society, supporting a congressional candidate who ranks low on social and civil rights issues and worked for Republican judges and the Franklin County Republican Party.
So when Mike Stinziano turned left and looked at Whitney Smith chastising her for being a Republican and asking what Republican Trump would think about Issue One, perhaps he should have turned right to look at Zach Klein, the council president, and asked Klein if he had any insight to that question.As of deadline, Zach Klein had not responded to a request for comment on his political evolution.
 Beard served as co-chair of Represent Columbus, which sponsored Issue One. Free Press Editor Bob Fitrakis is currently running as the Green Party candidate for Franklin County Prosecutor.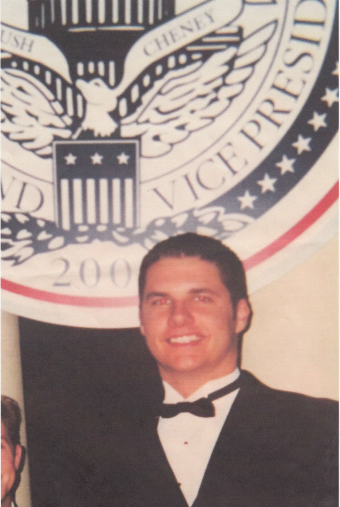 Appears in Issue: