I interviewed two dominatrices, Mistress Eve Minax and Miss Theresa. Each have over 15 years of professional experience. Asking them about their profession, providing insight on what makes a good client. They were asked to answer the questions they preferred, not all questions are answered by both women.

1. How did you start working as a Dominatrix? What flicked the switch for you, from enjoying being a top to getting paid for it and having clients?

EM: Long story, mostly, post 9/11 no work for literary people and yet clients lined up from afar.

MT: I started to work professionally at the invitation of an old high school friend. I was 21 and she called out of the blue to ask me to come apprentice with her in Pittsburgh where she'd been working for several years on her own. I was with her for about a month. From there, I worked with a few other established dommes in the Columbus area but quickly found it was best for me to work solo. I did obviously enjoy the income, as I could never make comparable money elsewhere. It was natural for me to be a top in power exchange play and submissives were drawn to me - and they still are even though I am retired.

2. What do you look for in a client? When screening, what is your favorite question to ask? What makes the best kind of client?

EM: warm, thoughtful, goofy sense of humor, appreciative of my work and willing to do the work…overall good human being :)

MT: As far as clients and what I looked for more than anything else was an honest nature. If I could not trust them, they would never trust me, and it was useless to bother. A favorite screening question was, "What are you looking for in a domme?" The best clients were the ones that had similar interests and were earnest in their desires and able to communicate well.

3. What kind of scene is your specialty?
EM: lengthy captive, interrogation scenes involving any of the following: bondage, role play, humiliation, estim, sounds, sensuality, sensory deprivation, edging, milking and prostate stimulation.

MT: Other than my fur fetish and advertising that, I didn't specialize in any one thing per se - but I did see a whole lot of corporal discipline oriented men. A good deal of paddling and spanking with school or home based themes.

4. What is your greatest challenge with so many outlets on the internet, web cams and other chat sources? Do you utilize those other means to have clients?

EM: Too much stuff! sometimes I try nite flirt.

5. For anyone sitting on the fence about hiring a dominatrix, how would you recommend they approach you (or one for hire)?

EM: Like any other pro, read websites, look around, call and talk, ask questions.

MT: Approach a potential dominant as you would any professional you might call - like a doctor's office for example. Be honest, direct, courteous and concise in your needs. Do NOT try to make it free fantasy chat time.

6. Is being a dominatrix all about being mean and hurting someone and getting pleasure from it? Are you just a sadist?

EM: I am a sadist but it is a service at the end of the day. I provide sadistic services for those in need/desirous.

MT: If it were that simple, anyone could successfully be a domme. My job was to fulfill the fantasies that each person had within them and bring that lady to life. It was a bit of one on one theater from my perspective, though my performances were always genuine they were not the "real" me who in private did not like power plays. It required many skills and talents that one might not even think of like: empathy and caring; the ability to see each person as the individual that they were; being a good listener; being able to read people's body language well, especially when they cannot speak; being a wise guide and making the best choices for them; being able to provide them with the ideal, domineering woman that they required, and learning to adapt when needed. Of course it required that I enjoyed being dominant, inflicting pain or discomfort without it causing me adverse feelings, or "owning" someone as a slave for instance. It was very complex and emotionally demanding.

7. How much of what you do is power exchange?

EM: all of it

MT: At the heart of what I did, it was almost all about power exchange. Exceptions to that would be certain fetishists who just required that one stimulus - feet or shoes for example. There were no hard and fast rules, but some fetish enthusiasts could derive their needed pleasure solely from the item or thing in question, no power play was required.

8. How do you define aftercare? How much time do you spend with this? Does it depend on how heavy the scene was, the client, the release that occurred? Have you had a client that needed extra aftercare, like after they went home and needed to contact you for more processing?

EM: Blanket, water, time, shower, conversation.

MT: Aftercare was as important as any other stage or element of play. It all depended upon the person and what they needed. Some people ran out the door as soon as they were done. Some liked more comforting or whatnot or to chat after play. I was never stingy with my time, encouraged them to let me know what they needed and give feedback. I did say to more than a few men that they should call me in a few days to follow up and let me know how they were doing - this was usually to new people or those that I felt were delicate or had special circumstances.

9. At what point do you become a therapist? Do you consider yourself a therapist while working as a dominatrix?

EM: Therapeutic facilitator.

MT: Technically, you DO need proper training to call yourself a therapist or you open a whole other bag of legal worms. I would never say I was a therapist, but I did try to use my time with clients in a therapeutic or helpful way. My goal was to never do REAL harm, but to provide a healthy outlet for specific desires and to build a progressive relationship wherein they grow as a person.

10. What keeps you successful and happy in your profession?

EM: Not taking on just any client, getting paid well for my hard earned skills:)

MT: It used to be that a steady flow of work kept me happy and content. Seeing people leave happy was rewarding. Steady work wasn't always achievable and in later years I relied upon only a few good regulars to provide my income.

11. Is sex included? Do clients expect to have sex with you? Do you consider yourself a sex worker

EM: No classic sex but I do consider myself a sex worker… it's an erotic art.

MT: No sex. But I did work in the sex industry.

12. What other work outlets do you have? Are you a writer, therapist, filmmaker, performer?

EM: Writer and educator.

MT: I perform burlesque and make costumes but do not have a good, reliable income of my own. I still rely upon my one good friend who was my client for 15 years to help me survive.

13. What makes for a long-lasting client/dom relationship?

EM: Communication, compassion, care and an ability to mix it up and go deep while having fun.

MT: A long lasting relationship is one in which good communication, honesty and continued desire all mesh well.


You can learn more about Mistress Minax here:
http://www.eveminax.com
Miss Theresa has retired as a dominatrix.
---------------------------------------------------------
If you have a question or a topic you would like to have covered in this column,
please go to: http://ladymonstersex.info and click on the link for the Google form.
Both options are 100 percent anonymous. Thank you.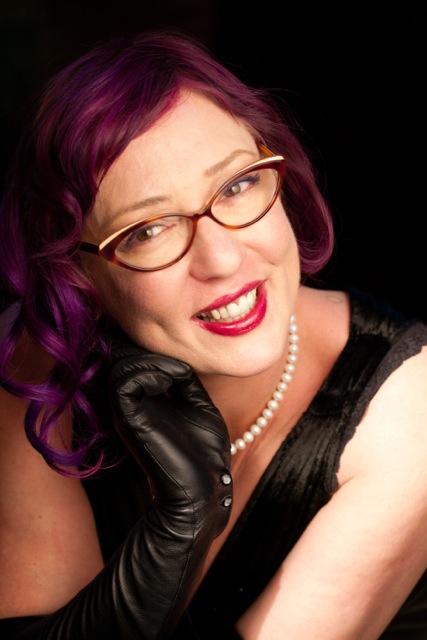 Appears in Issue: