By Madeline Stocker and Nicole Butler
Sparked by the outcome of last November's presidential election, a fire is spreading across Columbus.
Even people who don't usually pay attention to local politics are witnessing a shift in the political landscape of Ohio's capital city. There has been a surge in anti-Trump marches, demonstrations outside the Statehouse and public outcry against the top-down legislation threatening to compromise the everyday lives of Columbus residents citywide.
In other words, 'resistance' has become a daily practice for hundreds of thousands of Ohio citizens. But each day since last November, more and more Columbus residents are channeling their efforts into resisting the status quo here at home.
"I want to stand against the harmful and flawed policies coming from Washington D.C.," said Ernest Whitted Jr., who lives with his wife on the South Side. "But I've started to notice that many of the decisions that hurt me and my family are made right here in my hometown."
Columbus is like many cities that anchor the economies of Midwestern states – a blue city surrounded by a sea of red. With a highly educated workforce, a solid business base and a vibrant arts and culture community, Columbus is known around the country as one of the best places to live for those who have access to its upper class.
But Columbus is unusual. Even while serving as the economic engine of Ohio, it struggles with some of the most extreme income inequality in the country. In Columbus, one in five children lives in poverty. More than two thirds of public school students identify as economically disadvantaged. The city's police force is drawing increasing national attention – and multiple lawsuits – for excessive force against Black people.
At the end of the day, many neighborhoods in Columbus feel left behind by the city's increasingly energetic economy. More and more residents are understanding that the problem in this city aren't just natural growing pains, but are a result of a local Democratic party that has thrown in with corporations and wealthy real estate developers, and no longer represents the interests of the regular people who call Columbus home.
The Franklin County Democratic Party, which many residents brand as being beholden to the interests of the wealthy elite in Columbus, holds every seat on Columbus City Council and Columbus City School Board, as well as the majority of elected positions in city government.
The Party receives large sums in campaign contributions from local corporations and real estate developers, who then receive multi-million dollar tax breaks in exchange.
Examples of the Party's corporate ties can be found in elected officials' campaign contribution reports. The Pizzuti Companies, whose PAC has given over $17,000 to Columbus politicians this year, recently received $18 million in tax breaks for a new development project in Columbus Park.
Don Casto, another major player in Columbus's development scene, has given almost $50,000 to City Council campaign funds so far this year through various holdings.
Kaufman Communities, which is part of one of the two final final teams bidding on the $500 million Scioto Peninsula development project, has given almost $15,000 to City Council campaigns so far this year. Bret Kaufman has personally given $5,000 to the re-election campaign for Mayor Andrew Ginther, who will not face re-election until 2019.
These mutually beneficial relationships are often brokered by the Columbus Partnership, a group of the wealthiest and most well-connected in the city, many of whom are private sector CEOs or corporate representatives. The Partnership has been criticized for holding too much influence over what happens in City Hall, and to people like Whitted Jr., that's one of the main reasons why people don't identify with their local government.
"When Democrats are in bed with corporations, they can't align with everyday people on the issues that affect our daily lives," said Whitted Jr. "It's time that regular people get the same attention and focus when it comes to policy from our elected officials."
Ernest is a volunteer with Yes We Can Columbus, a local grassroots organization working to build a Democratic Party more tethered to working class interests than corporate money. The group is an affiliate of the Working Families Party, a national organization working to elect progressive leaders to local offices around the country.
By putting pressure on Democratic leaders to be more progressive on coreissues – issues like police-community relations, affordable housing, public transportation and others – Yes We Can wants to help Ohio's capital city put the "people over profit" rallying cry into concrete action.
The organization was founded in late 2015 and went on to win seven seats on Central Committee in the spring of 2016. That December, Yes We Can took their fight to the next level, recruiting, screening and endorsing a slate of local community leaders to run against the Party's incumbents for City Council and School Board.
Will Petrik and Jasmine Ayres are the Yes We Can-backed Democrats running for City Council, and Abby Vaile, Amy Harkins and Erin Upchurch are the group's endorsed candidates for Columbus City School Board.
"The Yes We Can candidates are running to give everyday people in Columbus a higher quality of life," said Colleen Dempsey, a Yes We Can volunteer and social worker also living on the South Side. "Whether it's bringing more funding to public schools or making sure neighborhoods have more of a say in the development happening in their communities, the leaders on the Yes We Can slate are by the people, for the people."
With the local election on the horizon, Yes We Can is racing against the clock to build off the momentum of the popular movement for change in Columbus. So what does an independent, grassroots organization run largely by volunteers do to challenge an established party with millions of dollars, institutional support and twenty years of dynastic connections in local government?
"We're a people-powered campaign in the most literal sense," said volunteer Kevin Truitt, a Short North resident who was frustrated to see City Council give tax breaks to wealthy developers without taking feedback from residents into consideration. "Rather than reach into nearly bottomless bank accounts and pull out thousands for things like television ads, we rely fully on committed volunteers, small donors and the fact that our message is inspiring to everyday people looking to change things."
The group uses grassroots organizing techniques to engage volunteers in different neighborhoods across Columbus. Like their slogan, their organizing model mirrors one popularized by the Obama campaign. By recruiting small groups of volunteers in each neighborhood and giving them resources to build out their own teams, Yes We Can empowers supporters to be leaders in movement-building.
"The fact that we're not getting thousands in corporate donations means that we have to be creative. We're always looking to help connect residents with unique ways to make direct impact in their neighborhoods," said Truitt.
Yes We Can says the most helpful thing a volunteer can do is to talk to voters in their neighborhood about the election and the issues they feel most connected to. The team of volunteers knocking on doors – known as "canvassing" in the political realm – ranges from high school freshman to retired union workers. Members of Yes We Can's leadership team hold weekly canvassing training for new volunteers to get familiar with what it means to "get on the doors."
The training has proven useful to volunteers like Becky Phillips, who had never previously volunteered with a political organization. But Phillips, a graduate student in The Ohio State University College of Social Work, says she wants others to know that talking to voters isn't the only way to get involved.
"There are volunteers holding fundraisers, entering data, creating social media content and even stuffing envelopes with thank you cards to donors," Phillips said. "Yes We Can volunteers are everyday people – they're educators, construction workers, veterans, artists and people who want to see their communities and families put first for a change."
If they want a shot at winning seats, Yes We Can's network of volunteers will have to reach tens of thousands of doors between now and Nov. 7. It's a big vision, but Phillips says she believes in the effectiveness of people-power.
"We might not be able to compete financially, but we have passion, determination and will-power," Phillips said. "When a group of everyday people come together to stand for what's right, I genuinely believe there's a possibility to change the status quo."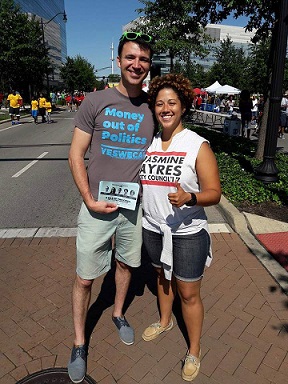 Appears in Issue: