This is a good time to be a Marvin Hamlisch fan.
  Not only can you see A Chorus Line, the late composer's best-known musical, but you can follow it up with a visit to the photo exhibition "Remembering Marvin Hamlisch: The People's Composer" at the Columbus Museum of Art.
  Though the exhibition may have sentimental appeal, I suspect most Hamlisch devotees will prefer the musical, which has been a popular and critical hit since its 1975 Broadway debut. The winner of no fewer than nine Tony Awards, it's the appealing story of a ragtag bunch of dancers trying out for an upcoming stage show.
  The show-within-a-show's director/choreographer, Zach (Nick Lingnofski), runs the dancers through their paces as he tries to determine which ones deserve a spot in the chorus line. The dancers do their best to learn the moves, all the while wondering just how many of those spots are available.
  But A Chorus Line is not so much about what these dancers can do as it is about why they do it. We begin learning this when Zach asks them to talk about their lives, explaining that their responses will help him decide which of them are up to the show's dramatic demands.
  For most, dancing is not only their livelihood—it's their life. They started doing it because the dance studio was the only place they felt at home. And they continue doing it, even though it punishes their bodies and is an unreliable source of income, because it's the only thing they know.
  When I first saw A Chorus Line in 1995 at Otterbein, it was presented straight through without an intermission. That's the traditional approach, though it can be an ordeal for the audience unless the show moves along at a lively pace. At 2½ hours, Otterbein's production was an endurance contest, but it also offered its share of dramatic and musical rewards.
  Short North Stage's current production, directed and choreographed by Edward Carignan, would be a similar ordeal except that it adds an intermission about halfway through. This is a mixed blessing: It gives viewers' backsides (and bladders) a break, but it also diffuses the tense atmosphere that arises, particularly after the dancing hopefuls learn that Zach can hire only eight of them.
  The intermission also may give Carignan and company the luxury of telling the story at a more leisurely tempo than they might otherwise pick. This also is a mixed blessing, which becomes obvious during back-to-back monologues involving Cassie (Dionysia Williams) and Paul (Luke Ashley Carter). Both actors are tremendous, as is Lingnofski as their interrogator, Zach, but their stories might be more affecting if they weren't dragged out so long.
  In general, I find A Chorus Line more interesting musically than it is dramatically, and that's certainly true of this production. Hamlisch's tunes (with lyrics from Edward Kieban) are timeless, while the sheer number of characters created by book writers James Kirkwood and Nicholas Dante prevents them from blossoming into three-dimensional human beings.
  The current production's best numbers include "The Music and the Mirror," sung by Williams's Cassie; and "Dance: Ten; Looks: Three," a comical ode to plastic surgery sung by Lauren Monteleone's Val. Also nice, despite occasionally flawed harmonizing, is "At the Ballet," sung by Sheila, Bebe and Maggie (Kaitlin Descutner, Christeen Stridsberg and Brooke Walters).  
  All of the singers have voices ranging from good to great, and the band, working under P. Tim Valentine's musical direction, proves equally worthy.
  Even more interesting than the music is the dancing, particularly the group routines. In fact, these sometimes reveal the performers' personalities just as clearly as the monologues. By watching the individual dancers, we can tell who feels this work is beneath her (Descutner's Sheila), who can't keep up (Ayana Freeman's Connie) and who has to hold herself back to avoid standing out (Williams's Cassie).
  The sound sometimes suffers from muddy amplification, particularly in the group number "Hello Twelve, Hello Thirteen, Hello Love," but the scenery, lighting and costumes are spot-on.     
  Along with its other attributes, Short North Stage's production boasts perfect timing, as it has arrived on the 40th anniversary of the musical's premiere. When you consider that it also coincides with the art museum's Hamlisch photo show, you realize its timing is doubly perfect.
  Short North Stage will present A Chorus Line through April 26 at the Garden Theater, 1187 N. High St. Show times are 8 p.m. Thursday-Saturday and 3 p.m. Sunday. Running time: 2¾ hours (including intermission). Tickets are $25-$40. 614-725-4042 or shortnorthstage.org.
  "Remembering Marvin Hamlisch: The People's Composer" runs through Sept. 6 at the Columbus Museum of Art, 480 E. Broad St. Admission is $12, $8 for students/seniors, $5 for ages 6-17. 614-221-6801 or columbusmuseum.org.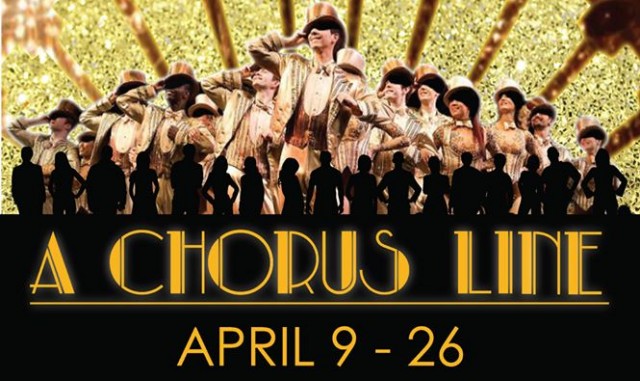 Appears in Issue: