On paper, the Community Safety Initiative is supposed to make Columbus residents safer in the summer months. Police officers go into neighborhoods identified as "crime hot spots" to seize illegal firearms and arrest people who sell drugs or commit violent crimes. 
But residents of Linden did not feel safer on June 6, when plainclothes police officers shot and killed 23-year-old Henry Green a block away from Linden-McKinley High School. According to Christian Rutledge and other witnesses at the scene, Jason Bare and Zachary Rosen pulled up in an unmarked SUV and did not identify themselves as police officers before ordering Henry Green to stop and opening fire on him. Green owned a handgun but it was not out when the plainclothes officers pulled up, Rutledge said.
Citing an unnamed witness, the Columbus Police Department said that Bare and Rosen identified themselves as police officers before ordering Green to drop his weapon, which was out. They claim that Green fired on the officers before they returned fire, killing him.
Green's family and friends aren't buying the CPD version of events. They want Franklin County Prosecuting Attorney Ron O'Brien to charge officers Bare and Rosen with reckless homicide and appoint an independent prosecutor to oversee the case.
On June 15 the People's Justice Project organized 100 people outside the Franklin County Courthouse to air these demands with the public before presenting them to Prosecutor O'Brien. Henry Green's family and others in communities affected by violence spoke out.
"I've lost count of the people I went to school with who have been murdered," said Jasmine Ayres. "Our communities are not safe for our young people."
Ayres questioned the effectiveness of the Community Safety Initiative and called for alternatives. "The number of young people in our city who are being murdered is increasing while the number of police goes up in our neighborhoods," she said.  "We need counselors in our community, not police officers."
People's Justice Project organizer Tammy Alsaada views the Community Safety Initiative as an armed occupation of marginalized communities. "It has been rife with blood, corruption, and ineffectiveness," she said. "Pulling up in a black SUV with tinted windows in a neighborhood where people already are on alert for their safety demonstrates reckless and callous indifference toward the experience and well being of our people!"
Oleatha Waugh, who was assaulted by a Columbus police officer when he was an OSU athlete in 1990, offered some words of encouragement. "When we marched in front of City Hall for a simple assault, the Justice Department came to Columbus and stayed so far up the police department's behinds, they couldn't walk right," he said. "This works! Don't give up."
"I will not leave this earth without justice for my son," said Adrienne Hood, Henry Green's mother. "I thank you all for being peaceful, because my son was a peaceful person."
After the protesters marched around the courthouse, about 40 formed a delegation to deliver the demands to Ron O'Brien. Only family members and five others were permitted to take the elevator up to the prosecutor's office.
The Mockingbird reported that O'Brien was out to lunch "at the Opiate Summit working together with law enforcement glitterati from across the state on tougher laws and more police." John Radcliff, an investigator with the prosecutor's office, received the demands and told the delegation that they would receive a call from O'Brien himself with an official response within 24 hours.
As of 24 hours later, June 17, the delegation had not received the promised call from O'Brien. The prosecutor released a written statement on June 16 that did not address any of the protesters' demands. "I understand that the Columbus Police are conducting an investigation of the circumstances surrounding this shooting death using established procedures that we all expect to be thorough and complete," O'Brien wrote.
"We all" does not include Tammy Alsaada, who grew up in Linden. "The police can no longer be allowed to investigate themselves," she said.
The People's Justice Project has created an online petition with the demands to Prosecutor O'Brien, and additional demands to Mayor Andrew Ginther, Police Chief Kim Jacobs, Columbus Federation of Police President Jason Pappas, and Columbus City Council.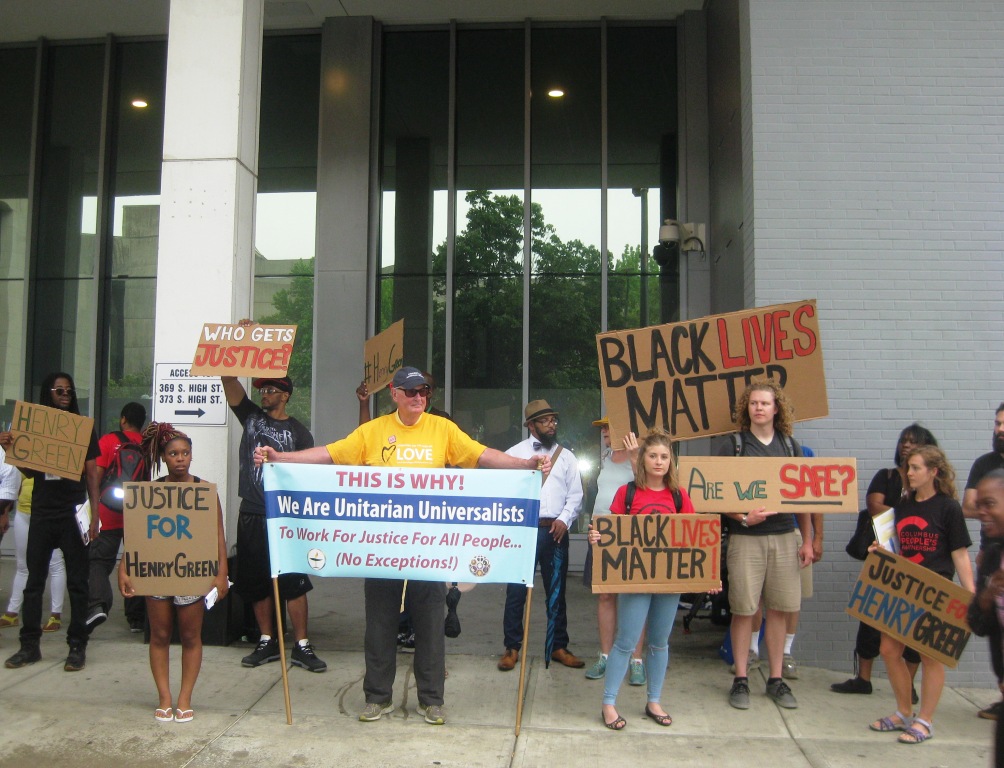 Appears in Issue: