Monday, October 8 was the 2018 Free Press Annual Awards Ceremony at Woodlands Tavern. It was supposed to be "Columbus Day" – but we at the Free Press were happy to hear that the city of Columbus DID NOT commemorate Columbus Day this year. City offices and services remained open. Though they did not admit the decision had anything to do with public outcry or changing the holiday to Indigenous People's Day – it may still be a step in the right direction to finally stop celebrating the genocidal maniac who didn't really discover our city or America for that matter.
Instead, it was an occasion to honor local community activists, artists and volunteers. Free Press Editor Bob Fitrakis presented awards to the year's honorees. The "Free Press Volunteer Award" went to Steve Caruso, who has given so much time, effort and expertise to the Free Press for many years. He provides computer technical support, handles social media, ensures our websites and domain names are up to date, fixes air conditioning/lights/TV/internet connections, helps with salons, plays music, and is an all-round great person to have around.
The Free Press was proud to honor our friend Malcolm J and give him the "Free Press Artist and Superhero Award." Malcolm J is a prolific local artist who was injured last year after he was attacked in a Short North bar after coming to the aid of a bar worker who was being harassed. It was a terrible thank you for his actions that he was attacked and subsequently lost one of his eyes. However, Malcolm J has stayed upbeat and active even under these difficult circumstances.
The Free Press honored Sandy Bolzenius this year with the Libby Award for Community Activism. Sandy is very active with the local Move to Amend organization, was instrumental in collecting signatures to get the Columbus Community Bill of Rights on the ballot, is an activist for many other causes, and recently authored the book "Glory in their Spirit" about the courage of black Wacs during WWII to stand up to racism in the military.
The Bill Moss Outstanding Black Activist Award was bestowed posthumously to Kojo Kamau, one of Columbus's most famous photographers, known for documenting the history of Columbus and other people and cultures all over the world.
The Free Press also surprised former editor Margaret Sarber with the "Radical Free Press Editor" Award. Margaret was editor when the entire Free Press Board was arrested in the 1970s for "inciting riots" on OSU campus during the Vietnam War. She still emulates that same courageous spirit!
Master of Ceremonies Dan Dougan sang some tunes and introduced the four bands that played later that night – Brian Clash and the Coffee House Rebels, Gilded Sun and Something Else – topped off with an over-the-top wonderful performance by Columbus own iconic Willie Phoenix.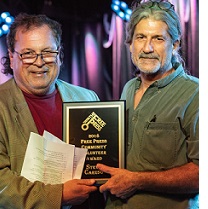 Appears in Issue: