Viper Club is too earnest and low-key to qualify as exciting cinema. On the other hand, if you believe in the First Amendment and are concerned about President Donald Trump's constant and self-serving attacks on the press, it may prove to be a cathartic experience.
Susan Sarandon stars as Helen Sterling, an emergency-room nurse whose son, Andy (Julian Morris), is in deep trouble. While covering Syria's civil war as a free-lance journalist, he has been captured and is being held for ransom by the terrorist group known as Islamic State.
As the film opens, Helen has already spent months discussing Andy's dire situation with an FBI agent named Walsh (Patrick Breen), but he's ordered her not to tell anyone else. Meanwhile, little progress seems to have been made on securing his release.
When Helen asks for updates or makes suggestions, Walsh responds with variations on the theme "We know what's best." He also warns her not to even think of giving in to the terrorists' demands for ransom money, as that would be against the law and would land her and anyone else who's involved in prison.
Directed and co-written by Maryam Kashavarz, Viper Club spends much of its running time focusing on the stress Helen feels as a mother who's forced to keep her son's imprisonment to herself. The ordeal sometimes affects her work and causes friction between her and her supervisor, Keesha (Adepero Oduye).
Mostly, though, Helen carries on dutifully at the hospital, whether she's dealing with an inexperienced, Iranian-born doctor (Amir Malaklou) or a mother (Lola Kirke) whose children were seriously injured in a senseless shooting. Her devotion to nursing comes out in scenes that are well done but, unfortunately, have little to do with the main plot.
Kashavarz also takes a few too many breaks from the action to revisit Helen's memories of Andy as a hockey-playing boy (played by Jack McCarthy) and as a young journalist intent on putting himself in harm's way despite his mother's misgivings. These flashbacks tell us little about Helen's love and concern for her son that we haven't already gathered from Sarandon's heartfelt portrayal.
The film is on firmer ground when the titular organization finally materializes. The first contact is made by Charlotte (Edie Falco), a woman who tells Helen her own son was also captured by terrorists. The second contact is Sam (Matt Bomer), a journalist who unexpectedly shows up in the hospital cafeteria. The two explain that "Viper Club" was formed to help captured journalists who have no one else to look out for them.
They then introduce Helen to a secretive operation that involves raising funds toward meeting the terrorists' exorbitant ransom demand. They also push her to do the one thing she has so far avoided: announcing Andy's capture to the world.
Though presented as a work of fiction, Viper Club is reportedly inspired by what happened to James Wright Foley, a journalist who was captured in Syria in 2012. Thus, the story is set several years before the Trump administration took office.
Nevertheless, it's hard not to draw parallels with the political atmosphere created by the current occupant of the White House. After relentlessly maligning the press as enemies of the people—an attack that barely faltered following a gunman's lethal assault on a Maryland newsroom—Trump recently hit a new low by praising a congressman for "body-slamming" a reporter. He also has waffled on whether to accept Saudi Arabia's unlikely explanation for the death of a journalist who'd dared to criticize the country's crown prince.
As a journalist, these developments make me feel that I and my colleagues are under attack. More importantly, I worry that the freedom of the press we all value as Americans is being endangered by a demagogue who can't see past his own self-interest.
The parallels between this current reality and the movie become inescapable when Helen takes Andy's case to a State Department official and learns the government feels no responsibility for his welfare. It would be different, the official says, if Andy were a soldier who'd been sent to serve his country. But, Helen counters, don't journalists also serve their country?
Unsurprisingly, her question goes unanswered.
Rating: 3 stars (out of 5)
Viper Club (rated R) is tentatively scheduled to open Nov. 2 at the Gateway Film Center and AMC Lennox Town Center 24. Check with the theaters for confirmation and showtimes. For information on efforts to help endangered journalists, visit www.viperclubmovie.com.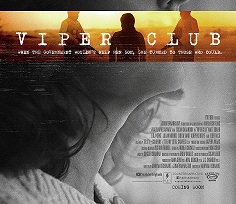 Appears in Issue: